Jim Gustafson (Poobah) - POOBAH-Worlds Most Collectible Psych Rock Artist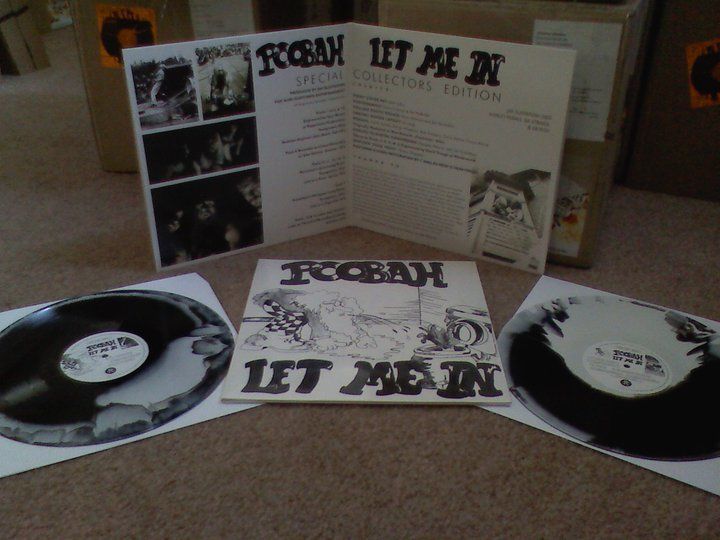 !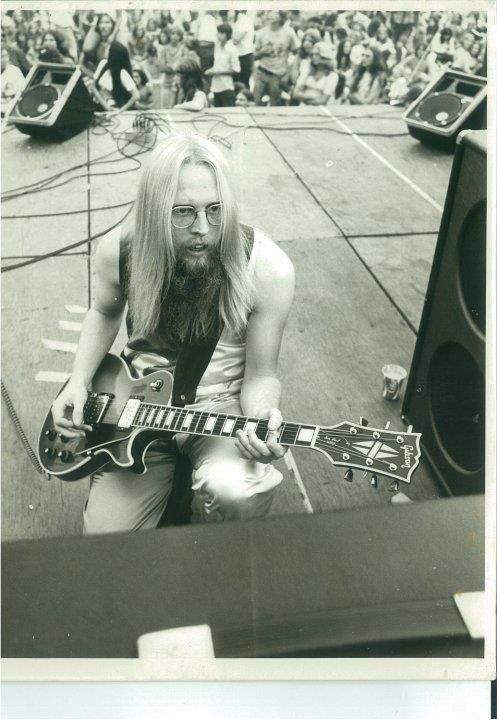 While still in his teens, guitarist Jim Poobah Gustafson was bitten by the recording bug, when he made his first pro recording 45 RPM record at age 15, with a band called Daze Endz. This was Jim's first song he had written, called "What Can I Do? "He also sang lead vocal and played his first studio recording ever,  of one of his lead guitar solos on this record. Future POOBAH Bassist Phil Jones, also played on that 45 rpm record.
    Soon after this band broke up, Jim started Biggy Rat with Scott Hunter on bass, Gary DiPasquale on drums, and bluesy singer Shirliann Shank .This lineup recorded a 45 RPM record, also, called "Look Inside Yourself", another Jim Gustafson original, with an old blues song on the back. Soon after, drummer Gary lost interest, and was replaced by Steve Rohrbaugh, and they added keyboard player Frank Amedia. They spent the next few years traveling around doing shows, and recorded an album in Memphis, Tenn., with Jimi Hendrix bassist Billy Cox producing. They had signed a contract with Kenny Rogers' brother Lelan, but the label went under, and the LP was not released. The band played at The Who's private party at the Cleveland Agora, and did shows with Cheech and Chong, Ted Nugent, Alice Cooper, Sugarloaf, and many more. When the label folded the band broke up soon after.
   Not too long after this, Jim hooked up again, with high school buddy Phil Jones, an excellent bassist and vocalist, who had played with one of the area's top jazz bands. They put an ad in the local papers for a drummer. After auditioning several people, they chose Glenn Wiseman, who was a very powerful skin basher. They decided to rock as a trio, and took the name Poobah, as it was a name Jim and Phil had teased each other with in high school.
   Not long after this ,Jim received a gift from his grandmother, of money, and he took the band into Peppermint studio in Youngstown, Ohio, and recorded "Let Me In". Some of the songs were actually written while Jim was still in Biggy Rat, along with some choice new material.
   Next thing you know, the top FM radio stations in the region, WPIC and WHOT started playing Poobah. DJ's Vince Radilovic, Ralph Caldwell, Jimmy Green, Jerry Starr, and Thomas John, all dug Poobah, and with all this airplay, National Record Mart sold 500 copies in one day! Suddenly, all of Poobah's live shows were packed with fans, and everyone in the region knew their name.
    The LP was submitted to Columbia Records, but with no management, and no real business sense, the band was turned down. After 8 or 9 months, the relationship between Glenn and Jim was marred by differences in opinion, and Glenn was replaced briefly by skilled drummer Steve Schwelling from Sharon, Pa. who was just 16 at the time. They played some shows, and then Jim and Glenn tried to bury the hatchet, and Glenn rejoined for a short time. Not able to agree on new material, Glenn was again replaced, this time by drum phenom, Nick Gligor, who was a schooled musician, and vocalist. This lineup went to Cincinnati, and recorded songs for a second LP. Most of these 1973 sessions ended up on the CD "Rock Collection".

    The band hooked up with Pittsburgh promoter Rich Engler. He had them go back in the studio and record the 45 RPM single "Rock City/Bowleen" 2 more Jim Poobah Gustafson originals.
Poobah was soon playing tours & shows with Ted Nugent, Canned Heat, Alice Cooper, ZZ Top, Blue Oyster Cult,
Sean Lennon, Les Claypool, Eddie Money, James Gang, Judas Priest, Foghat, Cheech & Chong, Spirit,
Uriah Heep, Mitch Ryder, Brownsville Station, Mark Lindsey (Paul Reviere), Trent Reznor (9 Inch Nails), Glass Harp (Phil Keaggy), Godz, Bob Seger guitarist Mark Chatfield, Movie Star Tim Curry, Sugarloaf, and many others, plus a few thousand Headlining shows as POOBAH.
   In 1974, after 2 years of nonstop touring, drummer Nick announced he was leaving with recently added rhythm guitarist Pat O'horo, to start a new band.
   At this time auditions were held in Maryland and West Virginia, while on tour. Two new members were added, keyboardist          Ken Smetzer, and drummer Gene Procopio.
   Ken had been lead singer for the band that became Kix, and Gene had been in a top jazz group from Harrisburg ,Pa., and was an excellent drummer. This lineup toured nonstop in the US and Canada for 2 years, taking only enough time off to record US Rock, in 1976, a batch of new Jim Gustafson originals, for the new label A.E.I. Records.
   Peppermint Studios had upgraded from 12 track to 16 track by this time of this record. With lots of airplay in Ohio and in Maryland, the LP had orders for 5000 copies from Camelot Music Distribution, who had already sold every copy of Poobah they had.
  Record Label A.E.I. had just had the plug pulled by it's investors, over a riff with their house producer. They never knew how much money they lost at this time.
   The band should have looked for another label, fast, but by this time they were locked into constant touring, with no manager, and booking agents keeping them on the road constantly.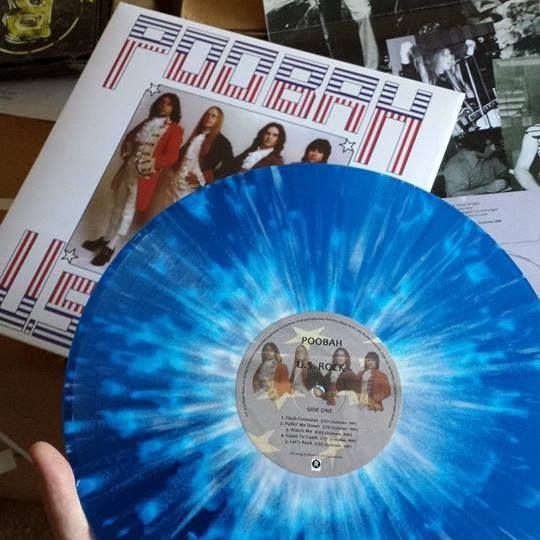 After 2 years, the band split. Jim and Gene formed another band, but no recordings were made, and they folded quickly. Jim played with some other bands at this time, but no records were made.
   By 1979, Jim was back in Youngstown, and Phil Jones showed interest in reforming. The hunt was on for a good drummer for this new Poobah. After some false starts, drummer Judd Gaylord joined. His powerhouse drum style was featured on "Steamroller". Because Judd and Phil did not see eye to eye, this lineup only lasted for 7 or 8 months, but did produce a fine LP.
   Jim and Phil searched for another drummer in 1980, and found Ralph Haring, who played on "Rock Collection". In addition they hired 2nd guitarist/keyboardist Gus Theofilos, who also plays on 2 live songs on "Rock Collection" About a year later, this lineup split.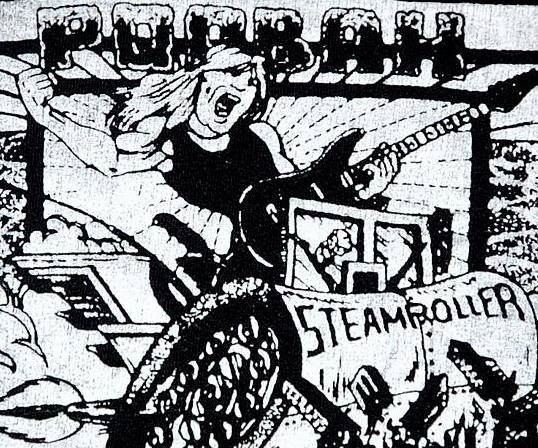 Jim formed another short lived band, who recorded 2 songs that were never released, as Jim was unhappy with the results. He formed another band, and started playing live shows with Dan Tharp on bass, Jeff Hickman on 2nd guitar, and Ken Dicks on drums.This lineup played some festivals, and clubs, and was starting to really shape up, but Jim inherited property 4 hours away, near Marietta, Ohio, and moved away, ending this version. Bassist Dan Tharp plays on a song on the new 2018 POOBAH album BLUE, and does a live show with the band, every now and then.
    A year after moving to southern Ohio in the early 80's, Jim formed a band lineup with WV musicians Dana Newcomer, Harry Seawell, and Greg Jones. They recorded songs for a yet unreleased album ,that will see release soon. After that band folded, Jim added multi instrumentalists Woody Hupp ( drums, bass, backing vocals), and   Joe Mowery (bass, keys, 2nd guitar). This band recorded the album "Switch On" and played a ton of live shows, staying together for an amazing 7 1/2 years. Joe left the band to start another band , and as talks were in place to reform this lineup 7 months later, he was killed in an auto accident.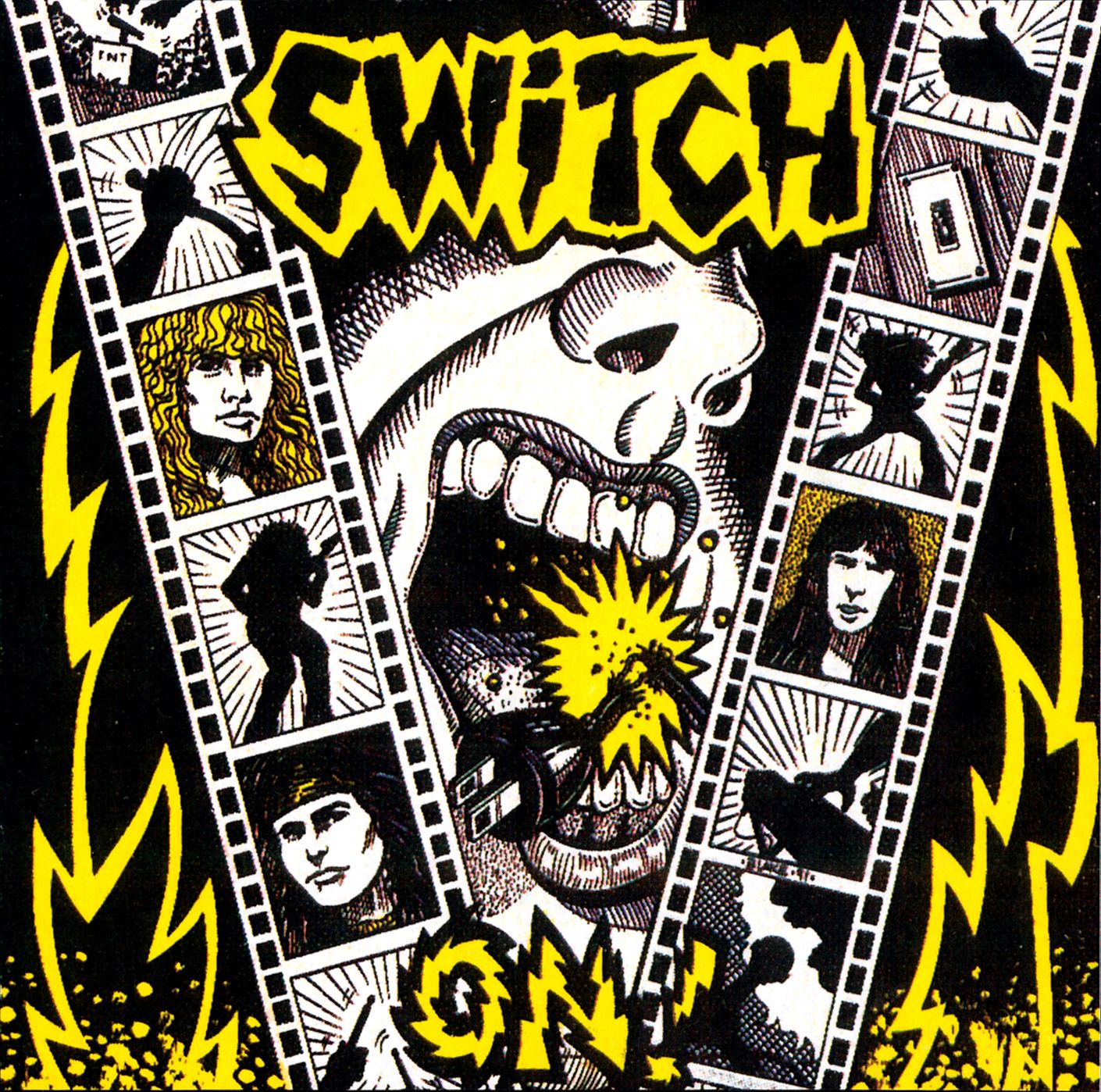 During this time drummer Terry McGee, and guitar/keyboard player Tim Querry joined, and recorded 2 songs on the "Furious Love "CD. They also appear in the Poobah video of "All you Do is Bitch". Seven months later this line up split. Jim played with Woody and a host of different bass players and drummers, for years, then that lineup folded.
Jim formed a short lived trio with Woody and Steve Richards, but that dissolved a few months later. Jim met drummer Mike Fortino, and bassist George DiGiovanni, and they recorded songs for the Poobah album Peace Farmers. That lineup folded about 10 months later. Jim and Mike stayed together ,& recorded a lot of songs that became the Cosmic Rock album in 2015.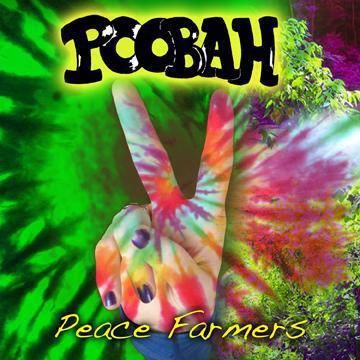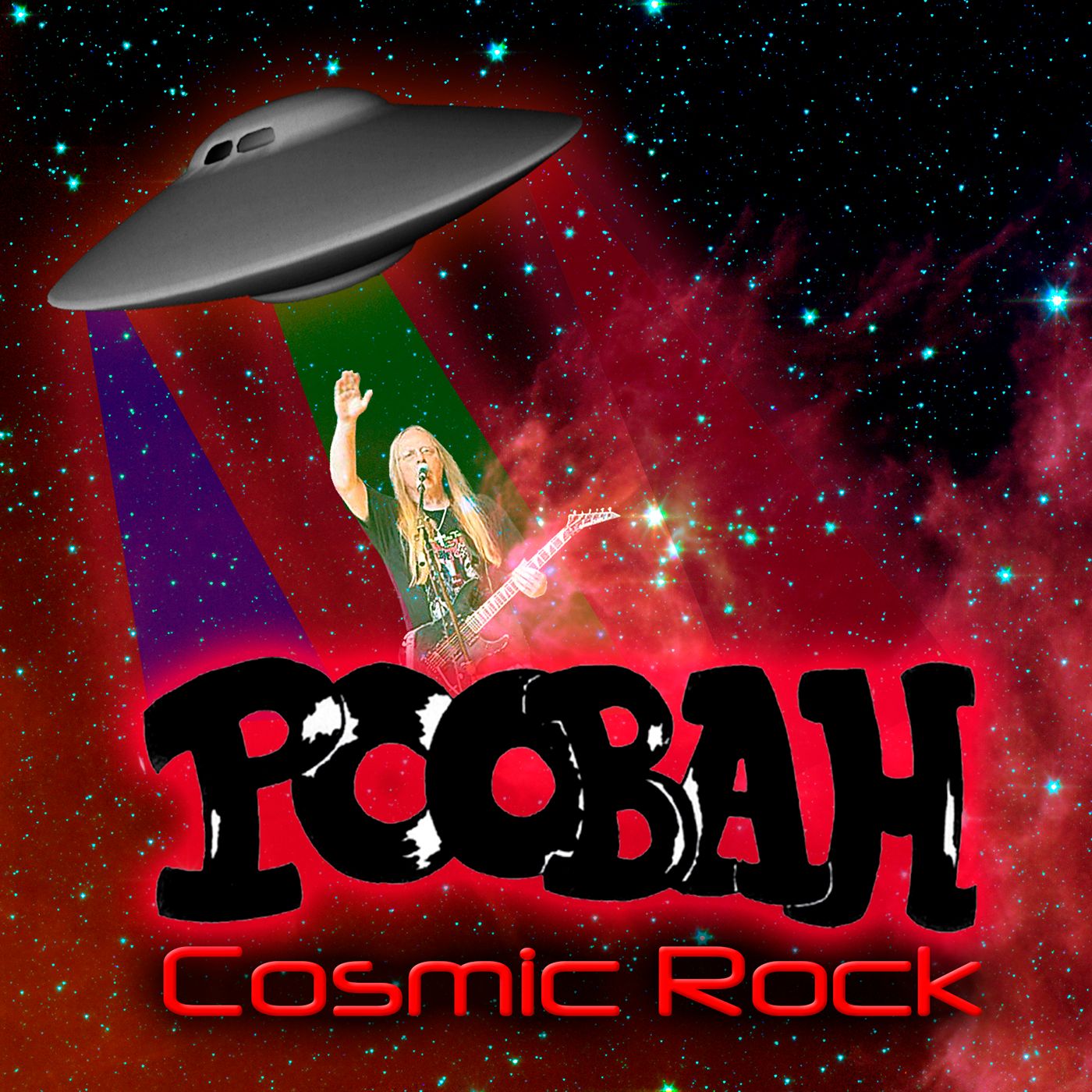 Mike Lewis came aboard on bass for a few years and recorded on a few songs on the POOBAH album "Cosmic Rock". He left and retired from touring.
Kevin McIlvaine joined on bass for 3 years, playing on 4 songs on the new 2018 Album BLUE. Baltimore Drummer Mike Fortino has been in the band for over a Decade ,making lots of recordings with POOBAH along with West Virginia rockin' Percussionist/ backup singer Lori Powers.
Jim has written hundreds of songs for these albums, 14 released at this time, plus 3 more unreleased albums "in the can" (meaning waiting to be released), and hopefully will be released soon.

    Jim has continued to record and play live, despite lineup changes, as going to Recording Studios , making albums, and playing live shows is very fun for him. Jim is the only member to play on all POOBAH Albums.  Jim continues to make new Poobah CDs  
     ( check the Poobah Store link here on this Site ) , all guitar rocking blasters, and long albums, giving you so much music for your ears!  With lots of International music magazines singing the praises of Poobah, like Rolling Stone choosing the Poobah album "Let Me In" ,making Top 10 album of the year list, (Reissue). That rocks !
World famous Comedian Marc Maron posted POOBAH Let Me In album on his Twitter page, saying "go get a copy of these albums now !" Marc is star of hit TV Series GLOW. 
Shindig Magazine in London, England gave a glowing review of POOBAH Let Me In in their summer 2018 Issue ! They said you should own this Album, calling it a rock Classic Album full of excellent songs !
Classic Rock Magazine in Europe picking Poobah for the Readers Choice Issue, and rating it 8 of 10 ! ! There are plans for more Poobah Vinyl , some old ,and some new, to be released soon.
 In 2017 a POOBAH song found it's way into new TV Series GRAVES (Episode 6) on EPIX/Lionsgate, starring Nick Nolte ,Sela Ward, Ernie Hudson, more. "Enjoy What You Have "sounds great in the TV show! Nick Nolte was Nominated for a Golden Globe for this TV Series GRAVES !
New 2018 Hollywood Movie "JOSIE" features star Sophie Turner from X-MEN and GAME of THRONES, and a POOBAH song ! The last SONG in the Movie Credits is "Enjoy What You Have , written by Jim Poobah Gustafson, and recorded by POOBAH. Available at all Major Music Services!
 Hollywood Movie "BETWEEN US (2016)" features another POOBAH song, "Frustration" from the Steamroller Album by Poobah!Written by Jim Poobah Gustafson! Features the female star of Breaking Bad & star of Superstore TV Series!
POOBAH has 5 Songs in a Movie starring Ed O'Neill (Modern Family, Al Bundy) and Boxing Champion Ray Boom Boom Mancini in "Youngstown: Still Standing"
They continue to tour everywhere they can, making that Poobah noise. You can expect another new Poobah CD soon , and maybe they will come to your part of the world to rock out live, in the near future.
 
2018 Touring/Recording Band: 
Jim Poobah Gustafson-Voice ,guitar, harp, songwriter,Producer
Lori Powers -Percussion,backing vocal
Mike Fortino-Drums
Road Manager- David Harker
CREW
George Kelly
Mike K.
Bass Subs: Dan Tharp, Woody Hupp, Kevin McIlvaine
A new album has been recorded and released for 2018. POOBAH "BLUE" is now available.
It appears on all major services, like iTunes, Google Play, Amazon, CD Baby, Sound Exchange, many more.
Also Spotify, YouTube, and all Nationwide Jukeboxes have POOBAH.
Special thanks to Recording Engineers who worked on the Poobah albums:
Greg Jennings, Gary Rhamy, Rob Brumfiel rip, Rusty D'Agnolo, John Truman, John Harrow, Dale Smith, Ken Hammond, Roy Young, Rachel Ward, Mike Lewis, David Traugh,  Jim Gustafson,Tony Greer, Jim Wilson, Tony Cotrill, BB Cunningham Jr., Billy Cox, more.
  POOBAH has played thousands of live shows, and we are getting ready to do a whole lot more rockin'!
Come see us in person ! We are currently working on another POOBAH CD, and we just finished our 2018 album "BLUE".
We keep rockin' and recording, so we will have more new recordings for you, soon.
! 
   You can ORDER CDs ,Vinyl, Tshirts from:
EMAIL   discrock@yahoo.com     (Any questions, Email us)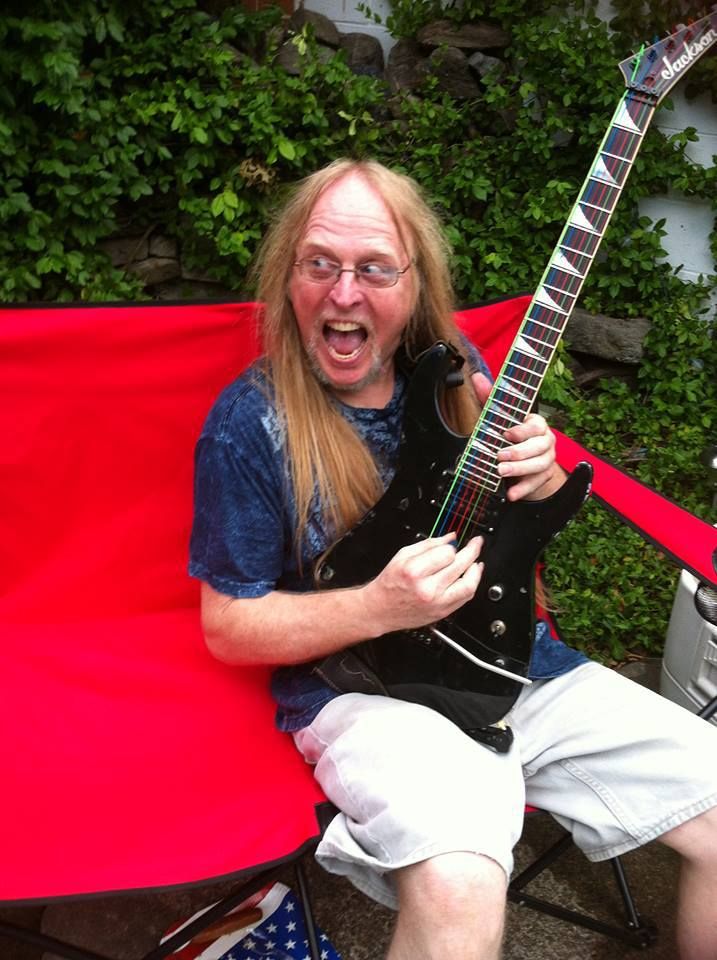 Poobah Shows!! Come Party With Us!!
2 Day Event August 23, 24 live bands, vendors, Clothing Show, Crafts
Check us out ! Try it, you might like it better!
Please sign our guestbook
Poobah